Dental Link Peru 2015
Dental Link Dental Study Tour to Peru 4 – 14 May 2015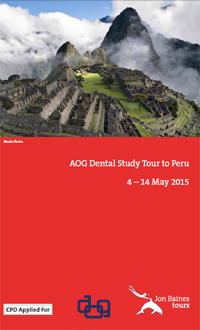 We joined Jon Baines Tours on their dental study trip to Peru, a country as varied in culture as in natural landscape. Journey from Lima, the modern capital through the Andes to Cuzco and the legendary lost city of Machu Picchu the home of the Incas. We saw where both the Inca and Spanish empires left their legacy in Peru on this bespoke tour designed for the Dental Link. The rich cultural programme was punctuated with professional visits and lectures giving an insight into dental practices throughout the country. CPD points were available due to the professional nature of the tour.
The hotels on the tour were all centrally located 4 star properties which offer comfort and spacious rooms.
The tour started on the 4th May in Lima and ended in Lima on 14th May.
---
Contact Dental Link Today
Or, if you're looking to join us to the Dental Link please click here.
---